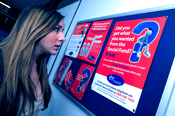 The Independent Review Service is based in Birmingham and serves England, Scotland and Wales. A separate office in Belfast serves Northern Ireland.

Our core business is to deliver an independent review of discretionary Social Fund decisions made in Jobcentre Plus offices. We also share information and expertise with those who have an interest in the discretionary Social Fund and its review. We participate in social policy research that contributes to the wider debate about the Social Fund and related issues.

In November 2010 we were once again recognised as an Investor in People organisation, an accreditation we have received since 1997.