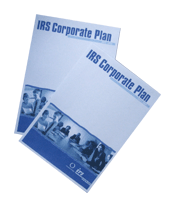 Corporate Plan
The IRS Corporate Plan 2007-10 contains:
the IRS strategic aims and objectives for the next three years
our three-year strategy, to support the achievement of our business objectives and deliver excellent value for the public money we spend
the IRS contribution to Government Aims and Objectives
the Customer Service Standards for 2007/08
If you would like to be sent a copy of the Corporate Plan[email protected]). Thank you.

The Corporate Plans are available to download in Adobe PDF format. Please click on the link to open the publication in its own window. If you do not have Adobe PDF reader, it is available to download for free. Please click on the link at the bottom of the page to be taken to the Adobe website.